A MOC inspired by the closing scenes of 'The Restaurant at the End of the Universe' book 3 of The Hitch-Hiker's Guide to the Galaxy, by Douglas Adams.
About this creation

click any pic to go to full view


Zaphod's mouths hung open: "That,"he said, "that is really bad for the eyes...."



It was a ship of classic, simple design, like a flattened salmon, twenty yards long, very clean, very sleek. There was just one remarkable thing about it.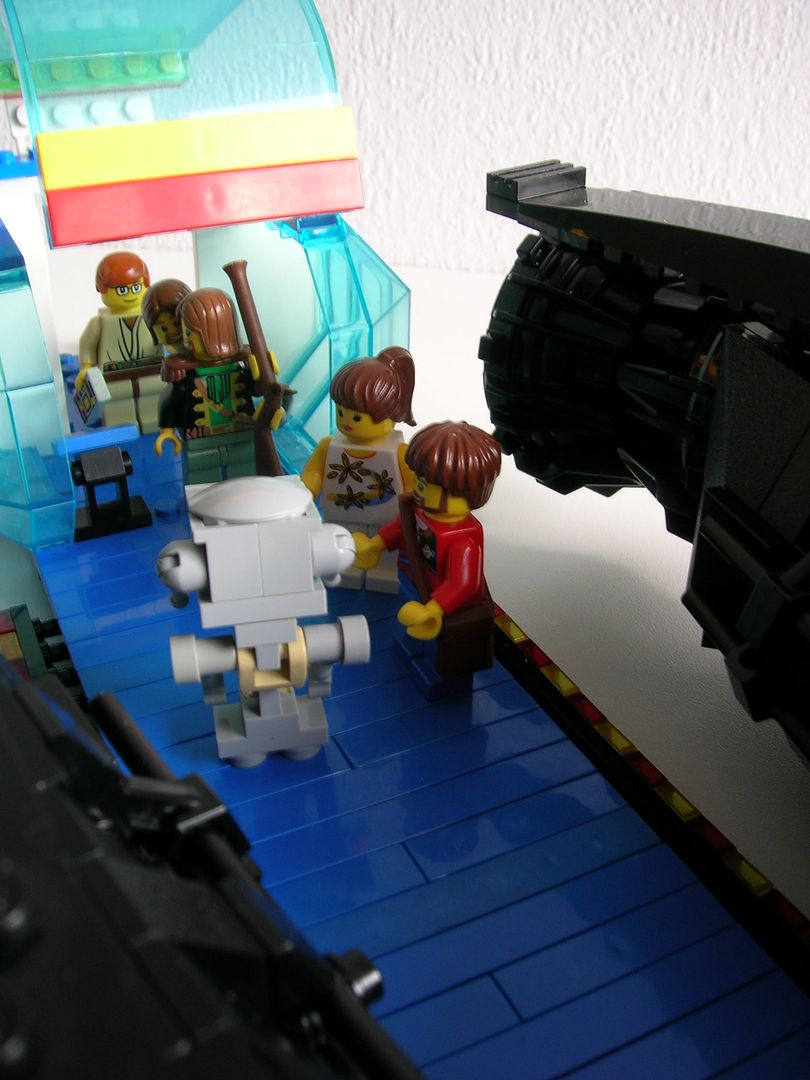 "It's so black!" said Ford Prefect. "You can hardly make out its shape... light just seems to fall into it!"


"Come and feel this surface,"he said in a hushed voice. Ford put out his hand out to feel it. His hand stopped. "You... you can't..." he said.



"See?" said Zaphod. "It's totally frictionless. This must be one mother of a mover...."



"What ? Er... yes. Yeah, that's right! Can you open this bourge moblie?" said Zaphod jumpily. He was keeping at least three eyes on the entrance. Time was short.


Well, I wish you'd just tell me rather than try to engage my enthusiasm," said Marvin, "because I haven't got one."

"Dont mention it," said Marvin. "Oh, you didn't."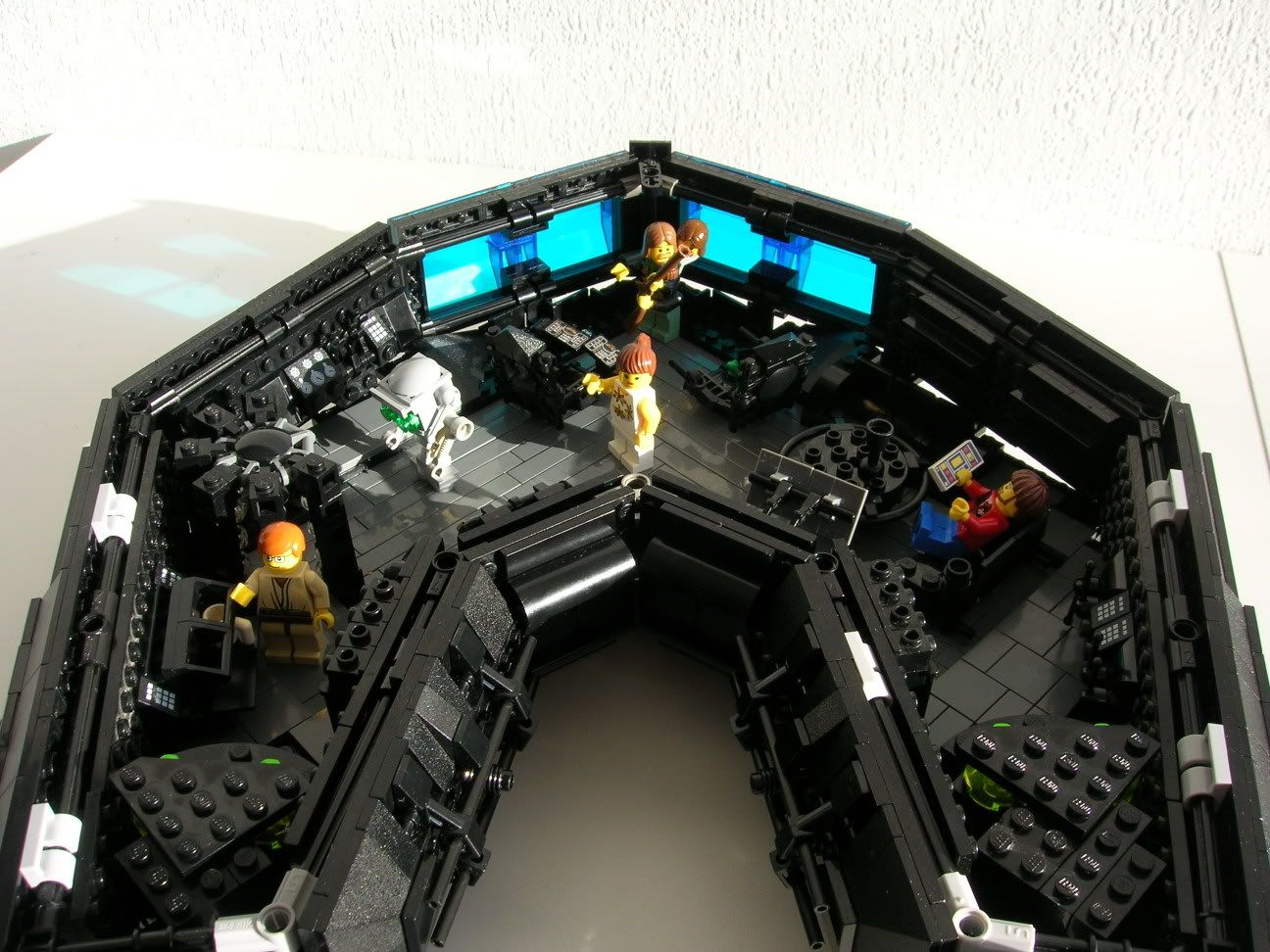 At that moment the ship suddenly stopped rocking and swaying, the engine pitch settled down to a gentle hum. "Hey, Ford," said Zaphod, "that sounds good. Have you worked out the controls on this boat?"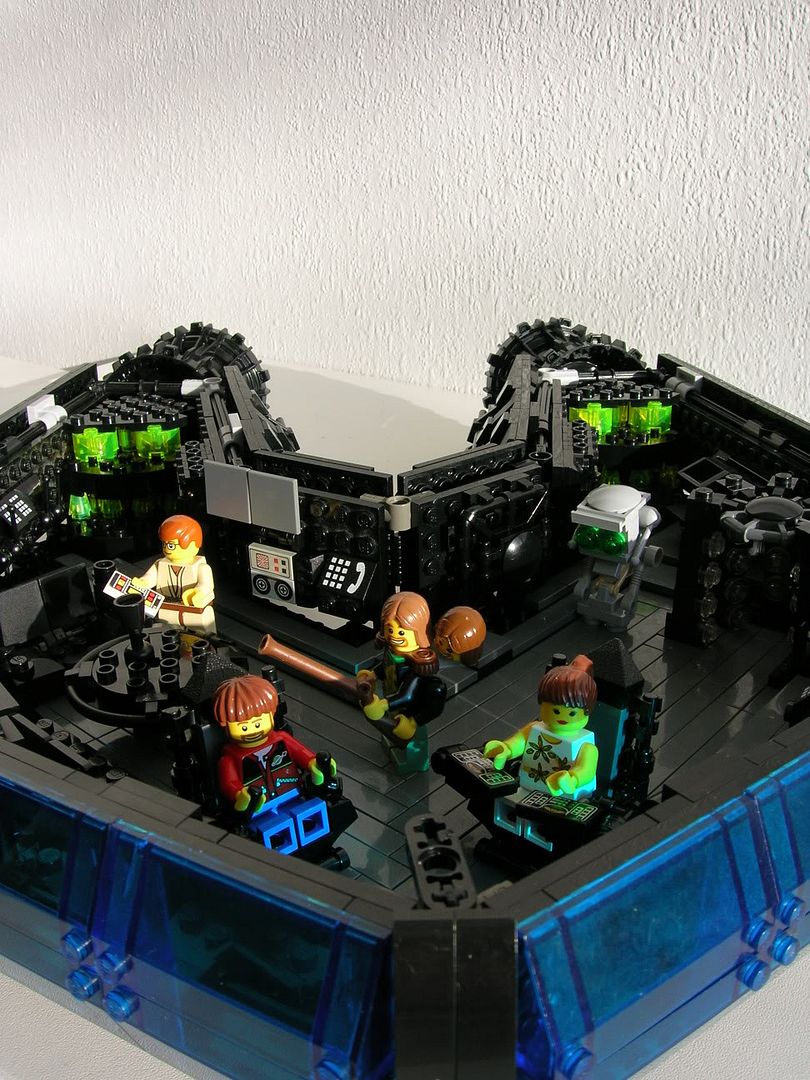 "No," said Ford, "I just stopped fiddling with them. I reckon we just go to wherever this ship is going and get off it fast."

"Look property is theft, right? Therefore theft is property. Therefore the ship is mine, okay," said Zaphod. "Tell the ship that," said Arthur.


"Ship," he said banging on the panels, "this is your new owner speaking to...."

"What," said Trillian in a small quiet voice, "does sundive mean?"


"It means," said Marvin, "that the ship is going to dive into the sun. Sun.... Dive. It's very simple to understand."

"Then why... didn't... you... tell us!"


"You said you wanted excitement and adventure and really wild things."


"Hey, Marvin kid," said Zaphod brightly, "how you doing?"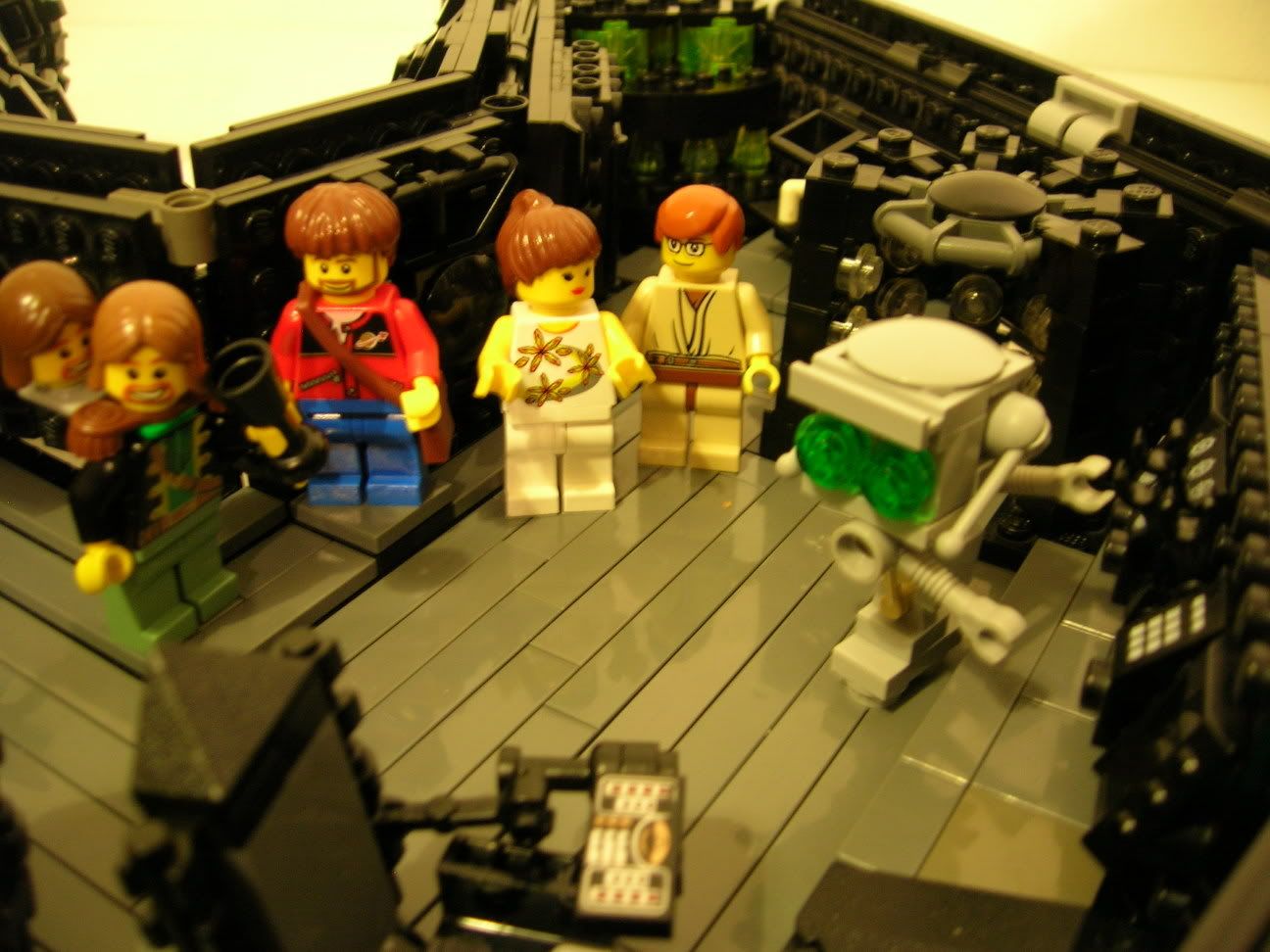 "Very badly I suspect," muttered Marvin.


Angles, not angels! those darn angles were demonic! Here's some: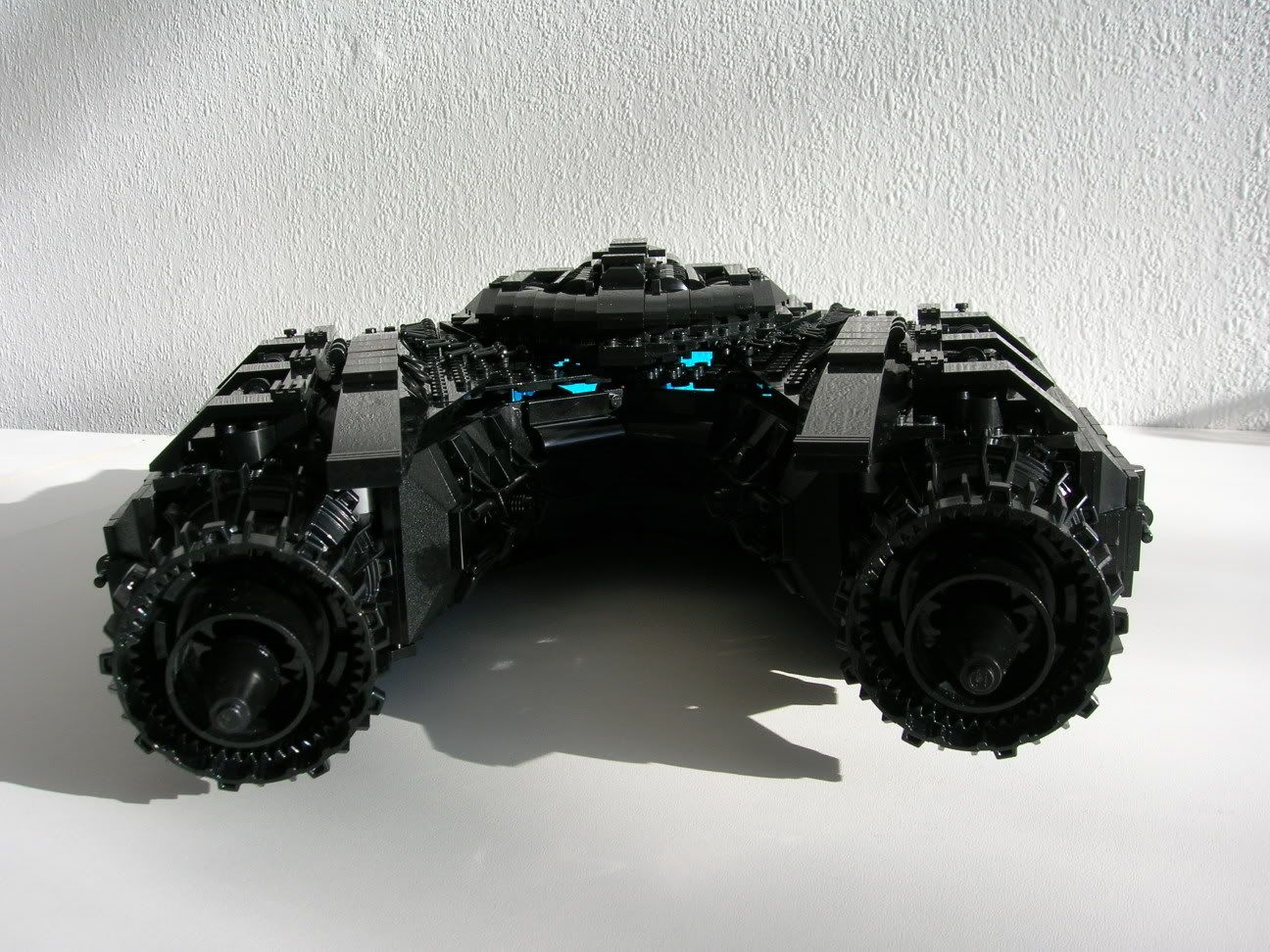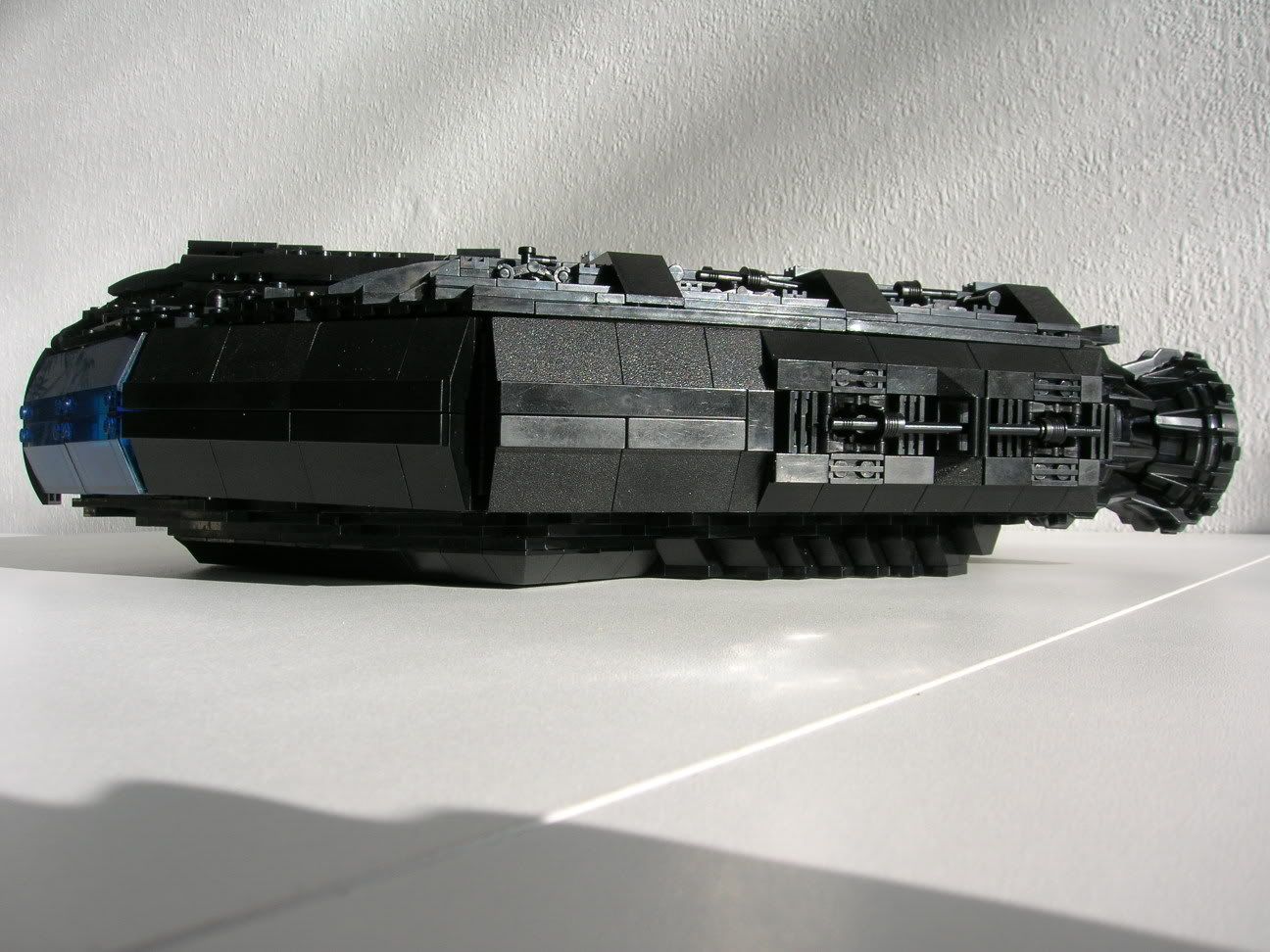 It took a long time for me to finally do a Hitch-Hiker's Guide to the Galaxy MOC. Than some months ago, this scene sprang to mind. One of my favourites scenes, and portrayed differently in every media The Hitch-Hiker's Guide to the Galaxy is available in (radio, tv, books). My version most closely resembles the book, though there are some descriptions in the book taken liberally. The first is that my version also displays the descriptives of Hotblack Desiato's Limo. And secondly - duh - that my interior is not entirely black. But for two good reasons; first I needed all my black tiles on the exterior. And second, Having a contrasting shade on the floor brings out the details much better!
The total build time must be some 40 hours, over a three week interval. The basic outline was done quickly enough, but the roof was a real challenge to fit tightly over the odd angles but allow easy access. The floor was a whole other challenge! I had some real structural integrity problems with the support base! but thanks to a friend, it became really strong! If I had built it just a little smaller, I could have made it completely studless, but when I realised this, I was too far down the process to downscale...

Thanks for watching,
Have fun!!!
More from Vladimir
More across MOCpages