Driven by an Infinite Improbability Drive it flies you from the swamps of Traal, all the way to Stravulon Beta, and still in time to catch the breakfast special at the Big Bang Burger Bar. No more tedious mucking about in hyperspace! It was stolen on its maiden voyage by none other than the President of the Universe who was there to christen it; Zaphod Beeblebrox, the worst dressed sentient being of the Universe! On the run from the cops they pick up a couple of hitchhikers…
About this creation

Click here for really big photo

Space is big. Really big. You just won't believe how vastly, hugely, mind-bogglingly big it is! You may think it's a long way to the chemist on the corner, but that is just peanuts compared to space! The probability of encountering another life form is very low, because space being this size and all. The probability of encountering another life form that is willing to give you a lift and deciding to do so within the thirty seconds it takes to die from asphyxiation in the cold harsh embrace of the vacuum of space are very, very remote…



Click here for really big photo

Voice over the intercom, "two to the power of two hundred and seventy-six thousand, seven hundred and nine to one against, and falling…"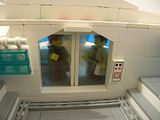 Click here for really big photo

Ford, "that was a good plan of mine, wasn't it?!"
Arthur, "what was?"
"To hitch a lift!"
"While we were dying of asphyxiation in the cold vacuum of space, you just stuck up your thumb and said 'hey, can you take us downtown please?'
"Yes" said Ford contently and idly pocketed an electronic gadget.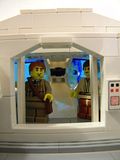 Click here for really big photo

"Ford," Arthur said, "there is an infinite number of monkeys out here, who want to talk to us about the script for Hamlet they have worked out…"



Click here for really big photo

Intercom, "we have reached normality, I repeat, we have reached normality, anything you can't deal with is therefore now your own problem. Thank you, goodbye."



Click here for really big photo

Depressed looking robot, "I am Marvin. I am here to take you up to the bridge… Here I am, brain the size of a planet, doing menial work for a fugitive… You call that job satisfaction? Because I don't…"
Ford replies, "Yeah that's life fo…"
"Life! Don't talk to me about a life…"



Click here for really big photo

Marvin droned on in a tired and somber tone, "all the electronics on board are equipped with GPP; Genuine People Personalities… All the doors have a cheerful and sunny disposition – look there is one now. It's about to open, I can tell that from the intolerable air of smugness it generates as it knows it can soon close again with the knowledge of a job well done."
The door in the background hummed softly and then chimed, "please enjoy your trip through this door!"



Click here for really big photo

"I am a personality prototype. You can tell, can't you?"
Ford ignored the paranoid android and asked "which government owns this ship?"
Marvin looked even more disappointed and explained in even duller tones, "none. I told you. I am currently employed by a fugitive."
"Who man? Who!"
"Zaphod Beeblebrox."



Click here for really big photo

When the lift took them up, Ford thought what he would say upon meeting this ruffian who stole the fastest ship in the Universe. The ruffian happened to be a close relative; Ford and Zaphod shared three of the same mothers! Arthur was stammering a bit – his mind could not keep up with the pace that events were moving. Marvin was entangled in a discussion on existentialism with the lift, but it appeared to be largely a one sided argument; the lift just got a bundle of kicks out of whizzing up and down the whole day and – especially – playing horrid music at its occupants. It could not care less about all the other dimensions the Universe had to offer, or anything else the depressed android talked about.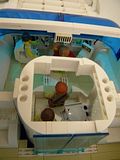 Click here for really big photo

Ford casually spoke when he saw his long lost relative, "hi Zaphod! Nice ship you have stolen…"
Zaphod lounged against a cockpit seat, looking as relaxed as someone can be. "Hi Ford. Hi monkey-man," he said to Arthur. Trillian, meet Ford, we share three of the same mothers, hi, monkey-man, meet Trillian, hi, Zaphod meet a very stiff drink!" Zaphod concluded and took a big sip from a Ginnuntonnick. His other head took a swig from the bottle.



Click here for really big photo

"We have met," Arthur said. "At a party. In Islington." Arthur turned to Ford, "I was talking to a very sweet girl, and up comes your brother here, and says 'hi, is this guy boring you? Come talk to me, I'm from a different planet, you know.'
"You have to admit," Trillian said, "he was telling the truth…" and swiveled her chair to face him directly.
Arthur looked stupefied when he saw the girl he met at a party in Islington, "I need some tea…"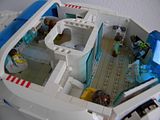 Click here for really big photo

The Nutrimat is a wonderful device for supplying versatile nutrition while traveling the length and breadth of the Universe. It scans the user's brainwaves and neural pathways, to link the user's desire to his or hers taste perception, and translates it to something that tastes not entirely unlike tea, for example.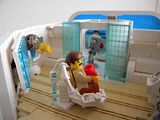 Click here for really big photo

"Yuck!" Arthur angrily held out the cup to the machine, "you call this tea?"
"It is what you call tea, sir," the Nutrimat replied in an adventurous, heroic, type of voice. Another Genuine People Personality… Arthur broke into a rant about plants and leaves, and the East-India Company…



Click here for really big photo

"We're approaching Magrathea, guys!" Zaphod exclaimed.
'BEEEEEP!' A loud, like an answering machine's, beeping sound interrupted Zaphod's enthusiasm. A hologram of a bearded man appeared on the bridge.
"Greetings to you. We thank you for your interest in our services," the hologram spoke, "but I must inform you that the planet of Magrathea is currently closed for business. When the Universal Stock Exchange has recuperated from the recession, we will open up our enterprise once more, and you may again employ our rather expensive services for designing and constructing luxury custom designed planets. Thank you." The hologram winked out of existence.



Click here for really big photo

None of them was interested in buying a custom designed, luxury planet; Magrathea was the stuff of legend! No one really believed the stories about the ancient planet-builders… But, here they were, in orbit around it! They flew in closer…
'BEEEEEP!' the answering machine sounded and again, the hologram winked on. "It is most gratifying that your enthusiasm for our planet continues unabated, and so we would like to assure you that the guided missiles currently converging with your ship are part of a special service we extend to all of our most enthusiastic clients, and the fully armed nuclear warheads are of course merely a courtesy detail. We look forward to your custom in future lives… Thank you."



Click here for really big photo

Trillian swung around in her seat, "give me manual control!"
"So we're all going to die?" Arthur asked to no one in particulate.
On the viewing screen the two missiles were seen, storming away to blast them out of the sky. Ford flipped a switched, and something activated under the centre controls.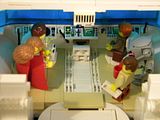 Click here for really big photo
Click here for really big photo
Click here for really big photo
Click here for really big photo
Click here for really big photo

'Impact minus sixty seconds!' Eddie, the cheerful ship's central computer said with an equally cheerful tone. 'Good luck guys!' it said.
Trillian worked the controls frantically, and the viewing screen showed the missiles not heading toward them, "it's like going forty miles per hour on a moped around Hyde Park corner…" she said, but the missiles came about after a couple of seconds…
'Impact minus twenty seconds!' Eddie said in a I-want-to-be-your-friend kind of way, 'nice knowing you guys!'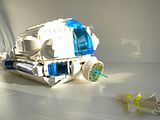 Click here for really big photo

"Does anyone know how to work the 'Infinite Improbability Drive?" Trillian asked.
'Ten seconds to impact!'
"This is really it then? We're all going to die?" Arthur said and took a big swig from his tea that tasted not entirely unlike tea. It made him realize an important question was raised. "What? This button here is marked 'Infinite Improbability Drive', shall I press it?"
"Press it! Press it!" They all shouted to him



Click here for really big photo

The Infinite Improbability Drive is a remarkable scientific achievement which allows starships to pass through every conceivable point in every conceivable Universe almost simultaneously, without all that tedious mucking about in hyperspace. It followed out of research into finite probability, which was often used to break the ice at parties by making all the atoms in the hostess' undergarments simultaneously hop one foot to the left, in accordance with the theory of indeterminacy. Respectful physicists would not stand for that, partly because it was a debasement of science, but mostly because they did not get invited to those sort of parties.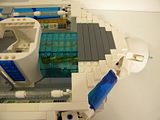 Click here for really big photo

The Heart of Gold continued its decent to Magrathea uninterrupted. The missiles were gone. "Where are they?" Arthur asked.
"They seem to have turned," answered Ford doubtfully, "into a bowl of petunias and a rather surprised-looking whale…"



Click here for really big photo

Against all probability a whale was called into existence, several miles above the surface of an alien planet, plummeting down. This poor innocent creature had very little time to come to terms with its identity of being a whale, before it had to come to terms with not being a whale anymore. This is what it thought:
'Ah…! What's happening? Er, excuse me, who am I? Hello? Why am I here? What's my purpose in life? What do I mean by who am I?'



Click here for really big photo

'What is that queezy sensation in my stomach? What is this tail for? I can really trash it about pretty good! It doesn't achieve very much, though… But why is this big and round thing – let's call it ground – what is this ground, coming to me rushing very fast?
I wonder if it will be friends with me?



Click here for really big photo

Curiously enough, the only thing that went though the mind of the bowl of petunias as it fell was 'oh no, not again'. Many people have speculated that if we knew exactly why the bowl of petunias had thought that we would know a lot more about the nature of the Universe than we do now.



Click here for really big photo

Arthur, Ford, Zaphod, Trillian and Marvin continued their adventure on the surface of Magrathea. Since this is the point in the story where they leave the Heart of Gold, but I still have more pictures I would like to show you, I will now bore you with some of the thoughts that went into the construction…



Click here for really big photo

I have delayed the construction of the Heart of Gold for a very long time. It is described in the books as looking like a sleek white running shoe. I needed white bricks, really white bricks and not the dirty, yellow, twenty years old white bricks… However seeing this Heart of Gold, by Nathan Flynn, I realized I could make it a lot smaller than the actual scale. It only had to contain the settings for my favorite scenes! I let go off the vision of a SHIP, and settled for a tightly designed minifig-scale Heart of Gold.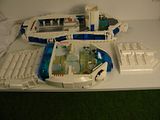 Click here for really big photo

The best scene from the story is that of the innocent sperm whale suddenly being called into existence far above the surface of the planet Magrathea, trying to make sense out of its existence while plummeting down. Making a sperm whale turned out to be great idea! With just about only the bricks from set 7066, I got a very nice design, imho. The first few times it broke, fell and smashed during construction were funny; 'haha, meet your doom little sperm whale', but it did that a lot. Seriously, a lot!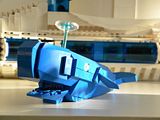 Click here for really big photo

I have to admit that I do rather like the tea-cup-design from the movie version of the Heart of Gold, but honestly, the sleek running shoe shape was quite enough of a challenge! The construction strategy was recycled from the Disaster Area Sundive Ship design; with Technic beams laying out the wall plan. Connecting the Technic beams with the transparent blue space police prison cell bricks was the idea that would define the overall shape – but more importantly – the size of the Heart of Gold.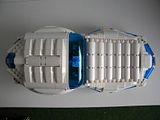 Click here for really big photo

Using the trans-blue space police head-quarter's windows in the cockpit was an absolute must! Unfortunately, they were not only just a little too tall, they did not align perfectly either – in the end… The distance between the two side-ways placed pieces appeared to be a whole number of studs, but as I was filling up the gaps, and building structural integrity, it turned out to be a plate off… It is hardly noticeable, but trans-blue plates on the starboard side make sure the cockpit closes tightly. Them being slightly too big was a hurdle I saw well in advance, luckily, and built a decoy greebly-bit to distract from the overhang…


Click here for really big photo

I took some liberties in the design and added the shower, toilet and captain's lounge. I figured with the Heart of Gold being equipped with an IID, it wouldn't need sleeping quarters; after all, it takes you no time at all to fly to your own bed! However, some species can be very particulate about their toilet behavior…


Click here for really big photo

With respect to the inconsistencies between all versions of the Hitchhiker's Guide to the Galaxy (radio play, book, tv-series, videogame and a movie) I concocted a (fragment of a) version of my own. I messed up the story line somewhat but it remains the story, and jokes, by Douglas Adams. Watch it, read it, listen to it, it is the funniest thing ever!


Click here for really big photo
Comments
Add a comment
| | |
| --- | --- |
| | I like it |

November 1, 2016

Brilliant! Love the movie, (I need to read the book still), and I really appreciate the detailed awesome interpretation you've done of the scene and the missiles/whale etc.
| | |
| --- | --- |
| | I like it |

October 29, 2012

A great version of the Heart of Gold. I've been thinking of trying to buld a microscale version for a while now. I'm really impressed that you've built one in mini-fig scale. I especially like the texture on the top of the shoe. Nice to see you've included the whale and Agrajag. You might enjoy the Matress Harvester I've built, based on Marvin being stuck on the planet Squornshellous Zeta:

http://www.mocpages.com/moc.php/341059
| | |
| --- | --- |
| | I like it |

September 28, 2012

I always have loved this book. great job on the design and build. great idea to add the diologe from the book :)
| | |
| --- | --- |
| | I like it |

December 6, 2011

This is really great! I really like the books very much and you have build something really fantastic. There are so many clever details... Great!
| | |
| --- | --- |
| | I like it |

November 28, 2011

Fantastic construction! The use of color alone is outstanding. I am envious of your building abilities. If you have a free moment, I would greatly appreciate your input on my Flying Rhino.
| | |
| --- | --- |
| | I like it |

November 27, 2011

Fantastically done. A great book, radio and TV series perfectly replicated in Lego (just don't mention that awful film!). Now to do Disaster area's stunt ship. I'm off for a pan-galactic gargle blaster, great work!
| | |
| --- | --- |
| | I like it |

November 27, 2011

This is awesome! Nice work!
| | |
| --- | --- |
| | I like it |

November 27, 2011

Did you remember your towel while building this? ~ Chris.
| | |
| --- | --- |
| | Oh, and... 42. |
| | |
| --- | --- |
| | I like it |

November 27, 2011

Belgium! I was going to do this too, but now there really is no point in it, there's no way anybody is going to top this! MOC of the year! Hama Kavula!
| | |
| --- | --- |
| | I like it |

November 27, 2011

The best book in the known Universe, wonderfully represented.
| | |
| --- | --- |
| | I like it |

November 27, 2011

Wonderful.
| | |
| --- | --- |
| | Epic build! The whale made me chuckle. Great homage to a great book. |
More from Vladimir
More across MOCpages