Previously in "The U.M.R.C. project": The civil space observation network J.O.H.N. revealed the position of a giant Mysterion fleet and their assumed mothership. After many disputes, the government of earth decided to start a preventive strike with help of MAOX forces. Meanwhile, Cpt. Josh Carnway awakens prisoned in a cube, Professor Bishop and Olivia Johnson have an one night stand and mysterious conspirators unite against earth's democracy…
About this creation
Somewhere in the galaxy…


Josh Carnway: "I'm getting hungry. Since 3 days we didn't get any food…For what are they waiting to free us?"
U.F.O.lien commander: "You humans are weak…"
Cpt. Calak whispering: "…your time is running, Josh."
Josh Carnway: "CALAK? You're here to rescue us!? But…how did you find me?"



Cpt. Calak: "I followed the bread crumbs…I'm happy to see you back alive, friend."
Josh Carnway: "Happy? You? Bread crumbs?"
Cpt. Calak: "A joke."
Josh Carnway: "You never make jokes, and you don't show emotions. You're not Calak. Tell me, who are you? What does this all have to mean?"
Obvious not cpt. Calak: "So many questions. No time for them. The time for questions is over, Carnway. The time for decisions has come…"



U.M.R.center, Iowa, Earth…


Professor Mortimer M. Bishop: "Liv…, about last night…we…we should talk…"
Olivia Johnson: "The president must be right here. I have to do…"
Professor Mortimer M. Bishop: "Olivia…"



Olivia Johnson: "NO! It was a mistake. I'm sorry, Morty, but there's more important… That last night should never happened."
Professor Mortimer M. Bishop: "But Olivia, you can't just…Let us talk about…"



Olivia Johnson vanishes: "NOT YET!"
Professor Mortimer M. Bishop: "Umpf."



Assistant #1: "All programmes running. Subspace network online. Transmission channel to the Galamoth opened."
Olivia Johnson: "Dr. Lentz! Nice to meet you again. I hope with good news."
Dr. Adrian Lentz: "I did my best. MAOX had sent 15 stealth battleships equipped with perception drives and 20 strike forces on board of each. Additionally we sent some DSD's and supporting fregates. Head command of the fleet will be the AMS Black Wind. They'll meet your fleet on the agreed coordinates…"
President Michael Abdullah Obama: "I'm sorry but… that was not what we agreed…"
Dr. Adrian Lentz: "Are you serious? We sent more than you could await for this stupid mission. You've called ignorantly for Galamoths…"
President Michael Abdullah Obama: "WE NEED them! You know that the Mysterions cannot be defeated by a few mercs…"
Dr. Adrian Lentz: "By all respect, mister president. Zordor will not offer its most important backbones for a suicide mission. We have to defend our lines against the krill. Ther're only 2 reasons why we've sent this fleet. The E.A. paid a lot of money for and the emperor is willing to present a gift for our possible alliance against the krill. If i didn't call my private connections you wouldn't even get the Black Wind as support. This is all we can send. Galamoth out."



Olivia Johnson: "That's a joke. Why don't we throw stones on the enemy? This will never be enough to solve the mission…"
President Michael Abdullah Obama: "It will have to be enough. Now or never. Everything continues as planned."



Jennifer: "Incoming transmission. E.A.S. Atlas."
Admiral Noxton: "Atlas here. Earth fleet one prepared and arrived in system makR'A'Tar or however the slimies are calling it. The MAOX arrived too but with far less ships than we expected…"



"The good news is that the U.F.O.liens have sent a big part of their last fleet. The slimies are hot for their revenge on the cubes."
President Michael Abdullah Obama: "Understood. An unexpected ally. Start the coordinated FTL jump to system X-433HJ now. Keep range of the canopion. Don't start the attack before all ships are not there."



Josh Carnway: "According to your logic, i mean Calak's one. You're not here. And HE can't see you, right? So what are you?"
Cpt. Calak: "The logical answers could be that it were the drugs in your food to make you cooperable. Your friend you would tell all military secrets of your world. Or you're getting crazy caused by the isolation and hunger. And if everything possible is wrong, the implausible could be right and i was always there but you've never faced me."
Josh Carnway: "Great. I'm talking with my boring subconscious? Why now? What do you want from me? I think you appeared because your time is running out, that my friends are on the way to rescue me and you need information."

System X-433 HJ…


Lt. Vega: "The fleet is complete. The canopion located about 100.000 kilometers away. Our sensors are flooded with signals. It will need a while until the S.S.F. is able to target specific Mysterion subspace signatures. The Mysterions have shaped a cubic constellation around the mothership. They're not moving."
Cpt. Calak: "The fleet leaders on screen. Commander Vrox. Admiral Roberts. Everybody knows what to do…"



Cmdr. Vrox: "Black Wind here. The MAOX battleships will start fighter battalions and prepare for the jump to the canopion. Be sure that we're doing our best. Ships of MAOX are nearly indestructible."
Admiral Roberts: "Carrier E.A.S. Okeanos. The earth fleet is ready and our ships won't stand too short, too."

Suddently, a giant energy blast flashes in space…


Lt. LeGonze: "Hell, what was that?"
Lt. Vega: "The Okeanos is destructed. Can't locate the origin."
Cpt. Calak: "Shields up and evasion maneuver Calak-1!"



Lt. Vega: "A powerful energy blast. One hit. I've never seen anything like that before. The enemy must be small and impossible to find. Sir, about 200 Mysterion objects set course on us!"
Cpt. Calak: "Command at the fleet. It has begun. Storm is rising. Host the sails and load the cannons!"

Moments later…


Admiral Noxton: "MAOX ships hold the lines! E.A. cruisers, firing as you see fit! All small cruisers and U.F.O.lien fighters follow the command of the E.A.S. Mewton. Attack the most dangerous objects first…"



The fleet joins hell…



Lt. Wu: "I have problems to target various objects. They're too small and too fast. They're joining our lines and attack tactical systems."
Cpt. Calak: "Are the shields holding?"



Object 504 appears just over the earth fleet…



…and reveals more Mysterions.



Lt. Vega: "Sir, a few objects are flying through the shields. They don't care for them. Probably these Mysterions use phasing technology."
Cpt. Calak: "Coordinate the plasma cannons manually. We have to hit them."

The cannons are firing.


Lt. LeGonze: "Object 524 destroyed. A hole on deck 8, shields decreased on 87%."



Lt.LeGonze: "U.F.O.lien scarabs are coming to help. E.A.S. Mars and E.A.S. Ares holding are joining our course, too."
Lt. Vega: "The S.S.F. detects an object listed in database danger level 9. Object 705 is coming portside…"



Pilot of E.A.S. Mars: "We have it. Damn, it's fast and firing in all directions. We can't target…argh!"
Lt. Vega: "We lost portside cannons. Sir, a mysterion swarm is breaking our shields…"



Lt. Vega: "Hull break on decks 4 & 3! Emergency locks closed."



Cpt. Josh Carnway: "You're afraid. My friends are coming and you're desperate because you know, you're not longer the superior faction. Obama sent a fleet so big that your small boxswarm will be defeated! I won't tell you anything. Let me in peace!"
Mysterious voice: "So you won't talk to your old friend?"



Cmdr. Cole Walker: "How's the guy the U.M.R.C. is responsible for his death?"
Cpt. Josh Carnway: "Our goal was peace. You left the earth, why the invasion of the U.F.O.liens?"
Cmdr. Cole Walker: "We'll be ready to talk but before you have to be ready to accept your destiny. Open your mind."
Cpt. Josh Carnway: "You want to talk? End these games! Show me a real face."
Cmdr. Cole Walker: "We're pieces, pieces of everything. Your mind is way too weak to understand. It would break you. This is an imagination, your mind is ready to open a relationship."
Cpt. Josh Carnway: "I won't do anything! Let me out HERE!"



Stacy: "Maybe the wrong memory. Walker died, a negative experience. How's this? Would you be nice to me, honey?"
Cpt. Josh Carnway: "Stacy?! Why should i memorize a girl that broke my heart so many years ago? I haven't seen her for years…"
Stacy: "Don't ask me. I'm just a projection of your subconscious…"



Lt. Vega: "We lost the Lybia, Hawking, Hesperidia and the Washington. The Fighters are everywhere. Our S.S.F. is overloaded. We don't get them. And cpt., two Mysterion battlestars are coming into range…"



Lt. LeGonze: "Object 713 is a carrier. We can expect more than 100 Mysterion fighters. 712 is a heavy battleship."
Cpt. Calak: "Let them come. The Mysterions have to leave the canopion unprotected. The Athene-carriers should concentrate their weapon power on object 712."



MAOX pilot #1: "MAOX flatship battalion Zetha-233th started. We're heading to the enemies fighters hiding between our cruisers. All pilots ready. Fire!!! For Zordor!!!"



MAOX pilot #2: "I have it i…damn it's out of my scanner!"
MAOX pilot #3: "It's between us. I can't target it…arghhh!!"
MAOX pilot #4: "I'm hit!...mommmyyyy…."



The Flatsterion crosses the flatship attack line and extinct half of the battalion within seconds…
MAOX pilot #5: "That dam thing is too fast..Argh...zumschk..."



Lt. LeGonze: "The fighters failed. The Mysterions are taking our ships down. We'll be destroyed before the battleships even reach us. The objects are too fast to target and our weapons are too small."
Cpt. Calak: "Can't we target with the S.S.F. scanner?"
Lt. Vega: "Negative. We need fast and maneuverable ships. There wasn't enough time to equip any of them with a S.S.F."
Lt. LeGonze: "Not quite correct. The shuttle has an own S.S.F. If we connect the Subspace Sequence Filter with its weapon systems directly, it could follow the signals, the Mysterion objects leave."



Lt.LeGonze: "I'm able to destroy the most dangerous fighters. Lt. Wu, take my position."
Lt. Vega: "LeGonze! Wait, going out there now is suicide!"



Cpt. Calak: "Vega! On your position! That's a command."
Lt.Vega leaves: "LeGonze, wait…"



An unexpected flash cuts a MAOX stealth carrier…



E.A. officer #1: "Another MAOX ship destroyed by one hit. Origin of the weapon is unclear."
E.A. officer #2: "We have to hold out for a while. The Mysterion fleet has leaved the canopion. When the mothership is unprotected, MAOX will start their perception-jumps."
Admiral Noxton: "If we'll still have ships for that plan. What if they already know what we try to do? Something is eliminating our heavy battleships. We have to find that object responsible for these energy blasts. Analyse all data, i want answers!!!"



Lt. LeGonze: "Vega, what do you want here?"
Lt. Vega: "You can't go. A shuttle will be destructed in that chaos…"
Lt. LeGonze: "I have to. It's the only chance to save thousands of lives. I can finish this mission!"
Lt. Vega: "NO. I will."
Lt. LeGonze: "Why? It's as dangerous for you as for me. And we both know that I'm the best pilot on board."
Lt. Vega: "Because you have a family to care for and i belong to a crazy alien culture where men marry with 30 years and have to do suicide after making a child. And i'm 29 now."
Lt.LeGonze: "vega, you never told me… but i will go, I have to…"



Lt. Vega knocks him out: "Sorry, friend. I promised Emma to bring you back alive."

C.O.C., earth…


Assistant #1: "70% of the mysterion fleet left the canopion. But we already lost 1/3 of our ships while only a few Mysterions are defeated. They won't hold out any longer."
Connel McConnaghal: "They don't have to. The MAOX strike will start as soon as the dangerous battlestars crosses the security line. We all know that our men are just red herrings."
Assistant #1: "But…We let them die…? They're not supposed to survive?"
Connel McConnaghal: "We're fighting Goliath. All that counts is getting his head. This is war my boy. A few hundreds for many billions…"



Even MAOX warships can't stand the mysterion battlestars…



While the Mewton is still under heavy attack, Vega starts the shuttle…



…but the flatsterion just joins the duel.
Lt. Vega: "Damn, it's just behind me. At least the S.S.F. is programmed on it only."



It's hard to avoid the phasers cutting every inch of space, but finally vega thwarts the object…
Lt. Vega: "Yeah, baby. Try to hit me! I'm as fast as you."



Lt. Vega: "Have you. EAT this!"



Assistant #1: "He got it! Maybe our men are better than expected."

Suddently…


Connel McConnaghal: "What's that?"
Assistant #1: "We lost connection. That's impossible. the network is on high security."
Connel McConnaghal: "Get it back!"

Somewhere in capital city…


Agent : "Master, we're logged in. Everything the government is hiding from the society will go on our servers."



L.Ron Brickhard: "Good news. I want to be informed if the battle turns another direction. Our eyes are choosen to be the holy eyes of truth."



Cpt. Josh Carnway: "Hey, slimehead. Do you have crazy halluzinations, too?"
U.F.O.lien commander: "Shut up!"
Stace giggles…



Cpt. Michal Krotowski: "Emergency energy! FIRE EVERYTHING! "
Lt. Hatschi: "Shields fallen on 30%. We lost athmosphere on decks 3&4. Weapon systems are down…"



A new energy blast appears from nowhere and cuts the ship…
Lt. Hatschi: "Direct hit. We're disabled. Only backdrives working…"



Admiral Noxton: "Another strike of this secret weapon. Any information?"
E.A.officer #1: "egh…maybe. We detected a fast increase of gamma radiation from direction 45.67.78. just before the blast. It wasn't symmetrical, more like a beam used for target an object, the E.A.S. Waterloo. But there's nothing on our scanner."
E.A. officer #2: "I have a theory, sir. Gamma radiation can be produced by annihilation processes of dark matter. Dark matter is not detectable directly. An object using a mass of it to create a powerful singularity could…"
Admiral Noxton: "A dark matter weapon? That's the rarest particle in the universe. It was never proven, that..argh."
E.A.officer #2: "Break on deck 12! Shields are DOWN!!!"



Lt. Wu: "The E.A.S. Atlas is highly damaged. They lost shields and won't stand another hit of that power."
Cpt. Calak: "Give them fire protection. Change the course, we'll be their shield."
Lt. Wu: "We got several hits. Shields decreased on 29%."



Ensign Carl burning after his computer has exploded: "Tell Carla, i love her!"
Ensign Walter: "Shields collapsed. Various objects are facing our frontside. We're helpless."
Cpt. Calak: "Full power to the drive systems. Get us out of here."



The Mysterions are too fast and a huge part of the ship just breaks away…



E.A. officer #2: "Admiral, i reconstructed the way of the energy blast. There's nothing on our sensors but i found an object with the optical cams."
Admiral Noxton: "How can such a small object create enough energy to destroy whole ships with one hit? Was it also responsible for the destruction of Gaiarius III and station 77?"



E.A. officer #1: "It moves to us."
Admiral Noxton: "Open fire!"
E.A. officer #1: "Impossible. Weapon systems can't target it. And for manual targeting it's way too small for us."



E.A. officer #2: "I detect a linear beam of gamma radiation. The weapon target something."
Admiral Noxton: "What's its destination?"
E.A. officer #2 cries: "Endpoint of the beam is located directly on your chair, sir."
Admiral Noxton:: "It was my honour to serve with you, gentlemen…"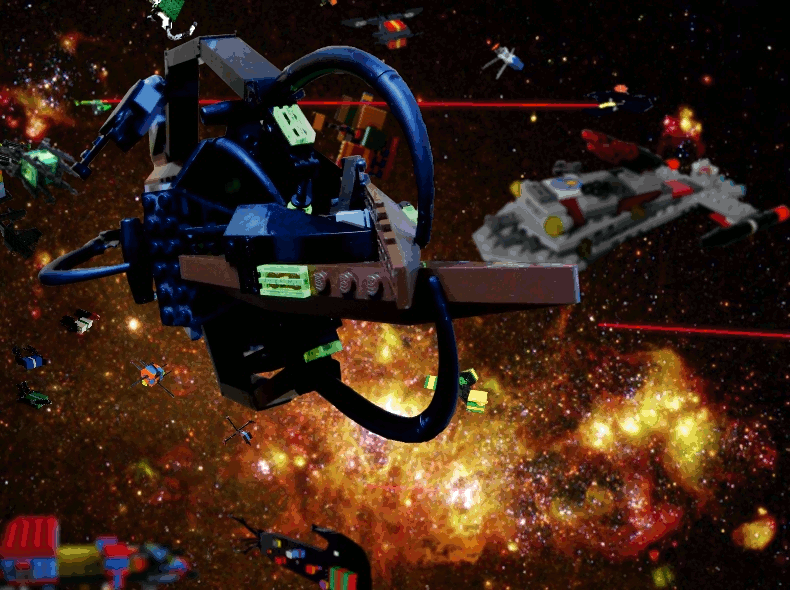 The E.A.S. Atlas explodes…

Back on earth…


Olivia Johnson: "NOOOO!!!!!"
Assistant #1: "The E.A.S. Atlas is lost. Hull breaks on the E.A.S. Titanic took the artificial athmosphere and killed the crew. 3 more ships are disabled or destructed. The E.A.S. Athene, the E.A.S. Mars, the waterloo, the serenity, douglas, berlin and the Mewton are still on our observation network. We lost 38 battleships and countless fighters. Loss of MAOX and U.F.O.lien forces are unknown. Only a few percent of the Mysterion fleet is defeated. Their battlestars are not injured in any way…"
President Michael Abdullah Obama: "Stop."
Jennifer: "Incoming transmission from the E.A.S. Waterloo…"



Cpt. Michal Krotowski: "This is a fatal failure! We're dieing! If anyone out there is listening, president Obama sent us into hell. He killed thousands of honourable citizen of earth. We had no chance since the beginning of the mission and you knew it! Obama, i hate YOU! This is a carnage, we're getting slaughtered and all just for your ego! Why did you do that to us? Why all this death? WHY???? Argh!!!...zumschk….ahhhhhh!"
From the background: "We're drifting. Oxygen level sunk on 1%. If anybody is alive, leave the SHIP!!"



Cpt. Michal Krotowski: "…we're getting slaughtered and all just for your ego!..."
Agent: "A perfect statement for the truth of our glorious government. Obama, last prophet of peace and change. Now the angel of darkness."



Agent looks down to the city: "Cry, my sheeps. Await your last days, see how gog and magog are running over the land leaving no more than dust and ashes. As John had seen it, the last seal has broken and everyone will be judged by the one and only son of our lord. But don't be feared, my sheeps. The one is wise and great and has choosen our beautiful planet for the new Bethlehem. And so it will be… When dust and smoke is decreasing, from the ashes a phoenix will rise…The U.N.E. will rise again like it was always our destiny. And then, the phoenix's breath will grow to the stars and over the universe to burn our enemies. The revolution has begun…"



Lt. Wu: "I failed with rebooting the shields. Environment systems are working on minimal power. We lost torpedo launchers 3,4,6 and 8. If the swarm is returning, we won't stand any longer."
Cpt. Calak: "The battlestars?"
Lt. Wu: "Object 712 and 713 will reach us soon. The dark matter weapon object 714 is still unfindable. WAIT. Sir, we got more problems… A giant object just appeared aside us…"
Cpt. Calak: "Evade!!!"


TO BE CONTINUED…

Guest appearances:
-The "Mysterion of the year" by Ethan M.
-Several MAOX flatships by Yuri Fassio
-MAOX battleships Avenger DSD; AMS Black Wind by Bernardo Blitz Silva
-some smaller Mysterions are not from me.
-Thanks for the support of the GGW universe members that made it possible to bring the factions together in this series.

Comments
Add a comment
| | |
| --- | --- |
| | I like it |

January 7, 2012

Dude, another addition to your streak of brilliance, and my streak of bad metaphors. Except for some details (You mixed up dark matter and antimatter. Antimatter is regular matter with opposite charge and lepton number and can be observed directly very easily. Dark matter is a completely different thing and there is actually 5 times more dark matter than matter, but I guess the ggwu is an alternate future that may or may not come to be, that hardly matters, so I guess the laws of physics may be slightly violated, considering you screwed with FTL and time travel already xD), you did very good. the moving animation of the dark laser is very nice, and the battle was one of the most epic yet!
| | |
| --- | --- |
| | I made it |

December 12, 2011

Thanks all. I really try to post part 2 this week. Just a few pics are missing.
| | |
| --- | --- |
| | I like it |

December 12, 2011

DUDE! Those space fight scenes are explosive! Intense imagary man, and so many good ideas as usual with cool scanner shots and the like, don't know how these are getting looked at more! Brilliant effort man, truly can see the work that went in...
| | |
| --- | --- |
| | I like it |

December 4, 2011

Intense battle! Keep it coming!
| | |
| --- | --- |
| | I like it |

December 4, 2011

Mother of God... things just got real. I can't wait for the final episode. Hopefully it won't take another month to get out...
| | |
| --- | --- |
| | I like it |

December 4, 2011

First comment, YAY! Nice job with the effects, as always!
More from Christian
More across MOCpages