This submarine is a WWII German Type IXB U-Boat (Submarine). These submarines were the improved version of the Type IXA "Sea Cow" supply submarine. They had a lengthened hull, and much more interior space for cargo room. Their top speed was considerably higher than the successful Type VII series, and lead to highly successful night attacks by "wolf packs" of Type IXA and Type IXB boats towards the end of the war when Admiral Karl Donitz was trying to re-introduce the "wolf pack" tactic that had fallen by the wayside ever since late 1942.
About this creation
THIS IS NOT A KIT. For building tips or if you ask how i built a certain part email me at darthmuffin17@hotmail.com and i will send you a description and a photo of the assembly. Sorry guys, I don't have the time to make instructions, i mean c'mon this has over 1,500 parts do I look crazy?.

COUNTRY: Germany
LAUNCH DATE: 1939
CREW: 48
DISPLACEMENT: Surfaced: 1068 tonnes (1051 tons)
Submerged: 2183 tonnes (1178 tons)
DIMENSIONS: 76.5m x 6.8m x 4.6m (251ft. x 22ft. 3in. x 15ft.)
ARMAMENT: six 533mm (21in.) torpedo tubes (4 bow, 2stern); 102mm (4.1in.) deck gun; two 20mm AA flak cannons.
POWERPLANT: Twin Shafts, diesel/electric motors
SURFACE RANGE: 13,993km (7552 nautical miles) at 10 knots.
PERFORMANCE: Surfaced: 18.2 knots
Submerged: 7.2 knots


The Type IXB U-Boats of which U-106 was one, were improvements of the ocean-going Type IXAs with increased radius. Some Type IXBs were modified for service in the Far East, their range being increased to 16,100km (8700 nautical miles) at 12 knots. Their hunting ground was the Indian Ocean, using bases in Japanese occupied Malaya and Singapore for replenishment. In March 1941, the U-106 (Lt. Cdr. Oesten), having already sunk several merchant ships on her Atlantic patrols, torpedoed the British battleship Malaya, which was escorting a convoy. The battleship was repaired in New York, but was effectively out of the war. Under Capt Rasch, U-106 went on to sink many more merchantmen in the Atlantic before being destroyed by air attack off Cape Ortegal, Biscay, on August 2, 1943. Their high surface speed made the Type IXs very effective in surface night attacks.

(the paragraph above was taken from "Submarines of the World" [page 251] written by Robert Jackson)




IF YOU WERE TOO MUCH OF A LAZY GNOME TO READ THE HISTORY ABOVE, HERE IS INFO JUST ABOUT THE MODEL:

This is my Model of Unterseeboot 106 (U-106). The model weighs 15 pounds and contains some 1500 bricks (without interior). Each of the deck guns/cannons is made from a picture or real-life reference to ensure that the lego bricks represent the weapon accurately. There are no actual torpedo tube doors shown on the model, but they would barely show on the real hull so why go through the effort of making something nobody would notice?

In the FIFTH PICTURE DOWN, you can see that each of the black "gear shift" pieces has been strung with string to represent cable railing. The "Winter Gardens" are made from curved, rubber-covered copper wire (same dimension as Technic tubing) (sorry, guys, i didn't have the part so i improvised) and the smaller railing underneath is made from greased twine. The flag was a contribution I came up with on a rainy afternoon, so i took some sharpies, paper, a needle and glue and made an authentic Kriegsmarine flag. (Sorry for the swastika, but i like accuracy and an "x" is not what the Kriegsmarine used on their flags.)

the net cutter wire (wire from net cutter to conning tower) used for ensuring the hole in the anti-sub net stayed open and away from things it could snag on (deck gun, hydrophone, conning tower, periscope, optics mounts, binnacle etc.) and the radio wires (two wires running aft from conning tower to the A-frame brackets over the propellers are made from heavy thread. I think its a good model, what about you?

MODEL SPECS:

Length: 55"
Width: 3.5"
Weight: 15lbs
NOT TO MINIFIG SCALE.

Note: The "winter garden" the curved rails at the back of the conning tower are made from rubber coated copper wire and the skinnier rails underneath are made from greased twine.

The flag was made from paper, sharpies and a sewing needle (flagpole) stuck into the greased twine. The radio wires and net cutter cable were made from heavy thread. Sorry for the cheats, but those were details that lego parts could not represent properly.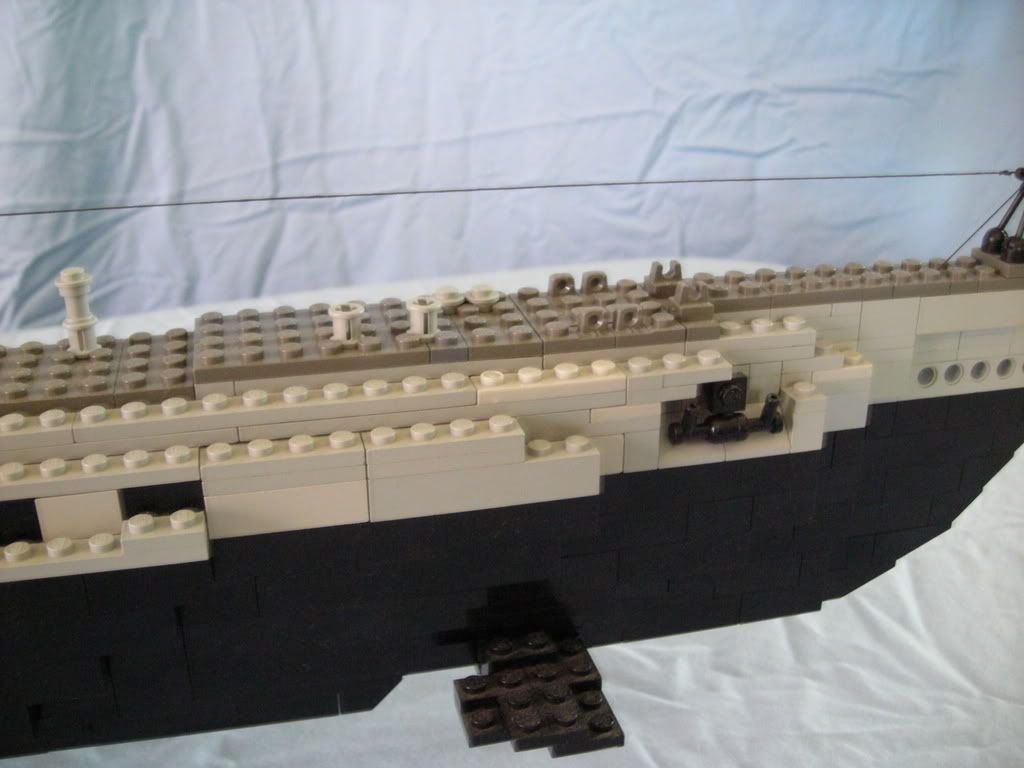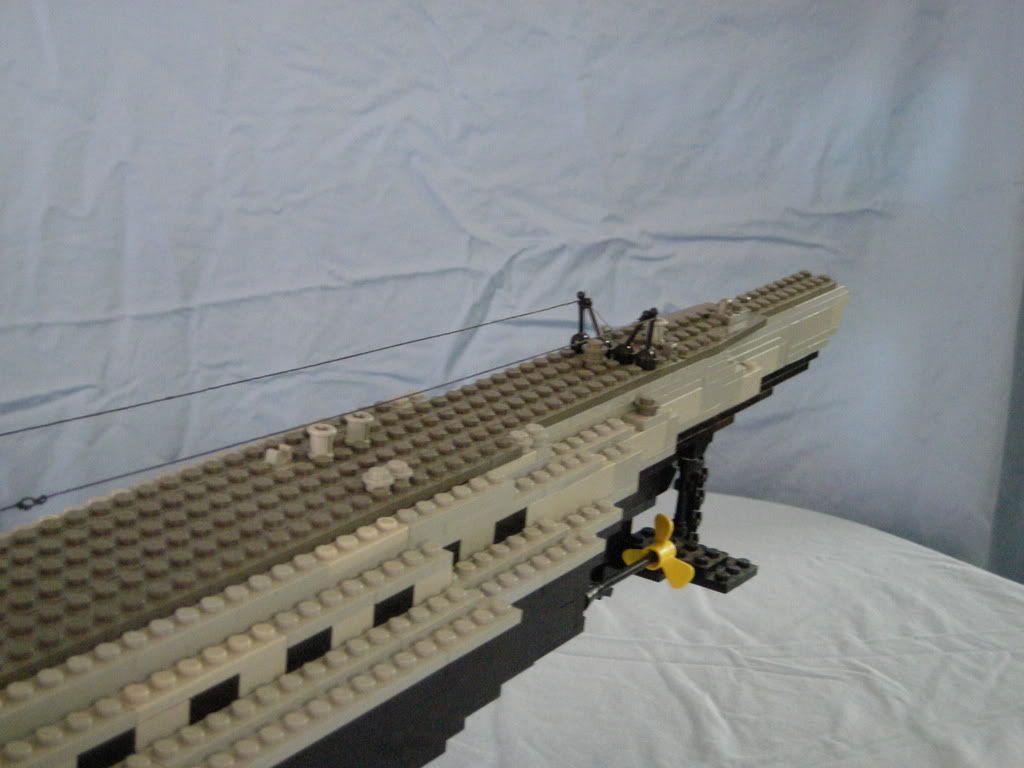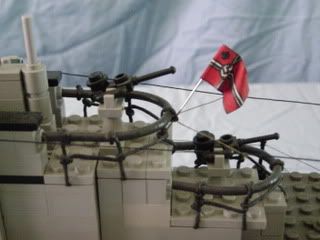 More from Pete
More across MOCpages