About this creation
Summary
History

Well, this is for you, if you never heard about this album. Let's not forget it is Pink Floyds most famous album, with approximatively 45 to 50 million sold, which makes it the third most sold album on earth after "Back in Black" from AC/DC (2nd) and M. Jacksons "Thriller".
Being the eighth album of Pink Floyd, it was released the 1st of March 1973, even if it was played live before.
It built on ideas explored in the band's earlier recordings and live shows, but lacks the extended instrumental excursions that characterised their work following the departure in 1968 of founder member, principal composer, and lyricist, Syd Barrett. It explores themes including conflict, greed, the passage of time, and mental illness, the latter partly inspired by Barrett's deteriorating mental state.
The group used some of the most advanced recording techniques of the time including multitrack recording and tape loops. Engineer Alan Parsons (Alan Parson Project) was responsible for some of the album's most notable sonic aspects.
The Dark Side of the Moon was an immediate success; it topped the Billboard Top LPs & Tapes chart for one week and remained in the charts for 741 weeks from 1973 to 1988. It is Pink Floyd's most popular album among fans and critics, and has been ranked as one of the greatest albums of all time.


Album Cover

One of the album's most famous feature is it's rather simple but effective cover. Being designed by Storm Thorgerson, it shows a prism dispersing light into color and represents Pink Floyd's stage lighting, the record's lyrical themes, and keyboardist Richard Wright's request for a "simple and bold" design.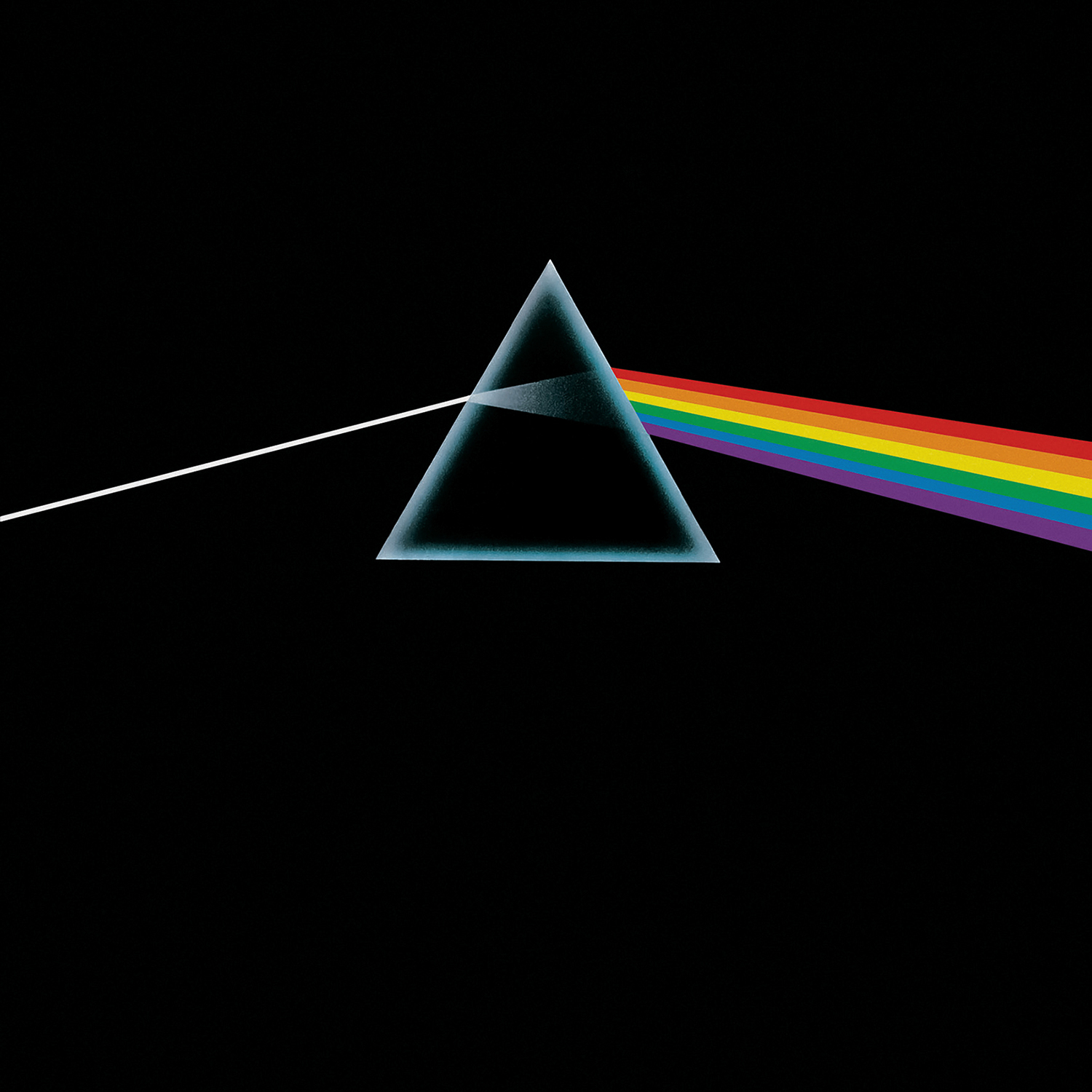 My Interpretation Of The Album Cover

In a first time, I didn't wanted to do the album, in the thought that too many persons knows it and partly because the cover seemed a little bit too easy to make.
And then I remembered some illusion seen on the internet and decided to make it has an illusion, which was a little bit more a challenge.

The illusion is described below in pictures by rotating the album cover, or if you are too lazy, just count the number of studs on each side of the prism. Normally, you have 12, 12.5 and 13 studs. Or download the file for more.


---
Conclusion


As a conclusion, I would say this: if you never listened to "The Dark Side Of The Moon", then do, just do. It is genuinely a masterpiece. It goes from nice rock/pop songs like "Money" to prog-rock perfection like "On The Run"; from calm ballades like "Us And Them" to highly political oriented songs like "Brain Damage". And also do not forget "Time", "The Great Gig In The Sky", "Speak To Me/Breathe", "Any Color You like" and "Eclipse".


---
Thanks a lot for watchingt!
If you have any ideas for futures album covers, suggest them below in the comment section.

Building instructions
Download building instructions (LEGO Digital Designer)
More from XY
More across MOCpages